Quality of Life Strategy
As part of the formulation of Jordan Vision, a national survey of 2,500 Jordanian citizens was conducted to measure citizens' current satisfaction with their overall quality of life and with specific sub-elements. The survey indicated a satisfaction rate of around 40%, and the primary guiding objective of the quality of life pillar is to at least double the rate of citizen satisfaction to 80% by 2033. Improving the quality of life for Jordanians begins with creating jobs and higher income opportunities across governorates, supplemented by developing an ecosystem that supports the creation of higher standards of living, more inclusive lifestyle options and experiences, and active citizen participation in the community.
Foundations of the "Quality of Life" Pillar
To advance the attractiveness of Jordan's communities and create high standards of living and happiness
Competitive Advantage
Enables Jordan to become one of the best places to live and work
Happiness
Represents the main indicator for quality of life
Satisfaction
For all citizens across Jordan
Livability
Laying down the foundations for citizens to enjoy high standards of living
Lifestyle
Offering various options & opportunities for everyone
Vibrant Communities
To live in and be a part of
Future Cities
Inspiring future generations
Smart Cities
Connected and sustainable cities
Quality of Life Pillar Goals
Improve day-to-day life Jordanians
Objectives
Improve overall quality of living
Improve quality of housing
Improve quality of infrastructure and utilities
Improve quality of mobility
Improve quality of education
Improve quality of health and fitness
Improve quality of public facilities and services
Improve quality of culture, sports and entertainment
Improve quality of retail and hospitality
Improve quality of community affairs and engagement
Improve quality of environment and climate change
Improve quality of security and safety
Improve quality of rule of law enforcement
Strengthen the International Competitiveness of Jordan as a Place to Live
Objectives
Improve Jordan's position in international Quality of Life rankings
Ensure one Jordanian city is among the top 100 globally
Advance societies
Enhance human development opportunities
Strengthen food security position
Improve happiness
Reduce cost of living in major cities
Improve services and infrastructure
Quality of Life Development Priorities
The Vision breaks down the quality of life pillar into two primary components: (1) Livability, which includes the foundational elements required to lead decent and satisfactory lives, and (2) Lifestyle, which includes the supplementary lifestyle options required by citizens to live more enjoyable and comfortable lives. The Vision has further identified 16 elements under both of these aspects, listed below.
"Quality of Life" Framework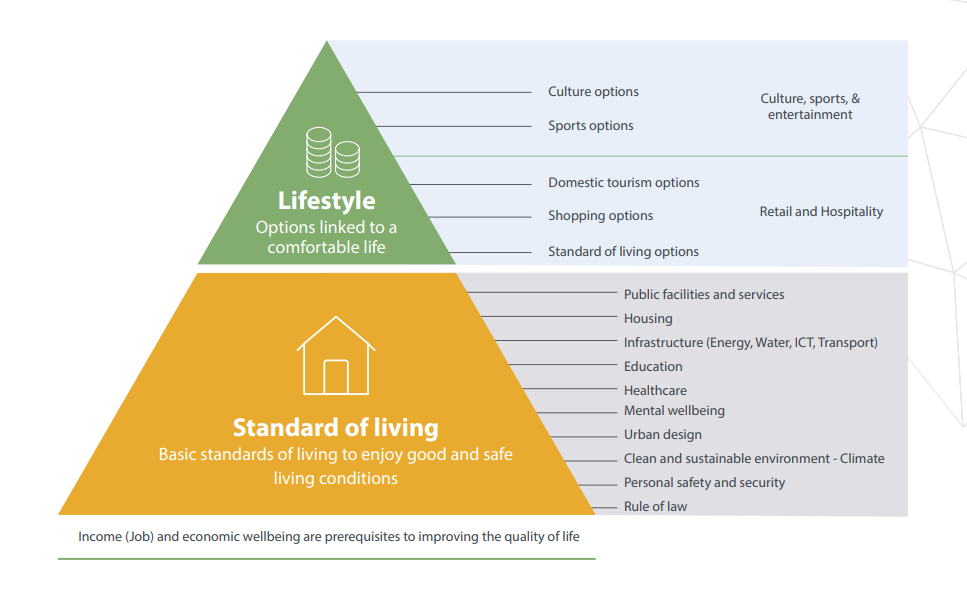 "Standard of Living" Main Components
Under the concept of livability, 10 elements were identified as requirements to achieve satisfactory lives for all Jordanians
Public Facilities & Services
Personal Safety & Security
"Lifestyle" Main Components
Under the concept of lifestyle, six elements were identified as requirements to achieve enjoyable living for all Jordanians